Families of Faith Christian Academy International Accredited Private School
Families of Faith Christian Academy International is a fully accredited private school. As a private school, we have the freedom to treat each student as an individual with different talents and goals. The foundation for every student is a range of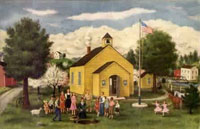 core subjects that must be mastered, such as English grammar, math and science. From that point, part of the "train a child in the way he should go" directive involves his or her talents and goals. Does a carpenter need to take chemistry or Algebra II? Should a student with the goal of being an engineer be required to take music lessons in high school? After the solid foundation has been laid, it is time to plan for and build the individual, not the village.
Parent-Directed Education
Families of Faith Christian Academy adheres to the conviction that God has ordained that parents are directly responsible for the education of their children and have specific concerns for that of their grandchildren.

"And thou shalt love the Lord thy God with all thine heart, and with all thy soul, and with all thy might. And these words, which I command thee this day, shall be in thine heart: And thou shalt teach them diligently unto thy children, and shalt talk of them when thou sittest in thine house, and when thou walkest by the way, and when thou liest down, and when thou risest up." Deuteronomy 6:5-7, also see Deuteronomy 4:9-10
Learn About Families of Faith, Homeschooling and High School Graduation and Scholarships
On this web site are three handbooks (or sections) with tons of information to assist you in making informed decisions about about how to fulfill your responsibility to educate your students. Find information about curriculum publishers and the types of students they work well with, as well as your options for record keeping and graduation. We hope they prove valuable in your quest to provide the best possible education for your student.

If you are looking for a private school, this is the place to start. From the services that are available, philosophy of education, and testing to the enrollment process, cost and paperwork: all are covered in great detail. The best way to learn if Families of Faith Christian Academy is the right school for your family is to learn about us, then you can determine if we can walk together on the journey that is your student's education.
"Can two walk together, except they be agreed?" Amos 3:3
Introduction and Vision
Educational Philosophy
Services and Benefits
Enrollment Process and Fees
Statement of Faith
School Forms
High school requires a plan. We know God has a purpose for each of us; his thoughts are about us and our future.
"For I know the thoughts that I think toward you, saith the LORD, thoughts of peace, and not of evil, to give you an expected end." Jeremiah 29:11 KJV
How can we have an "expected end" if we have not "planned" a journey. The journey of high school requires a five year plan, and most students should begin the planning during the 7th grade school year.
This is the handbook that will guide you to graduation:
Graduation Options
Testing and Certification of Grades
The Florida Virtual School
High School Credits While Still in Middle School
Dual Enrollment at Local Community Colleges
Florida Bright Futures Scholarship
Sample High School Graduation Plans
High School Course Descriptions by Subject Area and Publisher
If you are new to "Parent-Directed Education" or "Homeshooling", this is the place to start. Orientation to Homeschooling is a complete guide to homeschooling.
This begins with the "why" of parent-directed education, followed by a review of the *legal requirements. With that foundation, we move on to the process of choosing a curriculum based on the student's academic level and future plans by examining the major publishers, including their strengths and weaknesses.

Why Home Education
Legal Options for the Education of Children
Choosing Curriculum
Classroom-Based Textbooks
Self-Paced Textbooks
Non-Traditional Materials and Textbooks
Classflix: Bringing the Classroom to Your Home
*Based on Florida Statutes where our campus is, but there are links to provide information about the requirements of other states.
The links below will give you more insight into our school and how we may be a "helper" to your educational needs.
Meet James and Ruth Lawson, the founders, and learn the story of why Families of Faith Christian Academy was started, including the vision that guides the school.
This is the most important information you need if you are thinking of becoming a part of Families of Faith Christian Academy.
From complying with the State of Florida's compulsory attendance requirements, choice of textbooks, maintainance of records (including a real high school diploma) to testing, Dual-Enrollment at local Community Colleges, the Florida Virtual School and so much more.
What's required for enrollment and the cost, how to complete the paperwork to enroll, as well as the attendance and gradesheets throughout the school year.